Article: Aptamer-guided siRNA-loaded nanomedicines for systemic gene silencing in CD-44 expressing murine triple-negative breast cancer model
Presentation at SFNano2017- 5/12/2017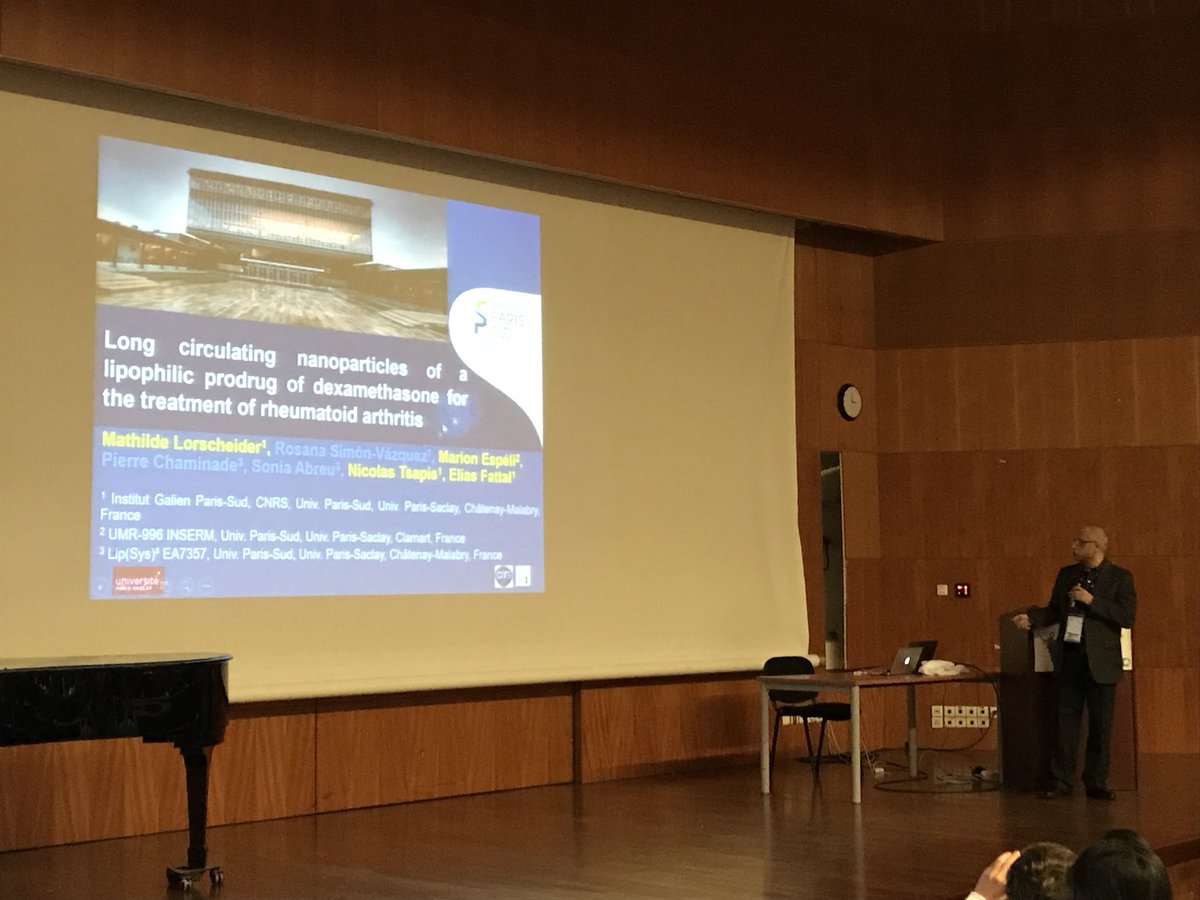 Grant: The project "Arrow Nano" funded by Euronanomed3
(Nov. 2, 2017) We are about to join the "Arrow Nano" project funded recently by the Euronanomed3 program. The project consists in developing targeted nanoparticles for the treatment of rare and "orphan" lung diseases. It is coordinated by Prof. F. Meloni from the University of Pavia (Italy).
Thesis Defense: Mathilde Lorscheider
(Oct. 26, 2017) Mathilde Lorscheider presented her thesis work on the formulation of nanoprodrugs of dexamethasone. She obtained the highest grade and was congratuled by the Jury. Mathilde is now doing a post-doctoral stay at Novartis in Switzerland. Congratulations Mathilde!
Article: Compared in vivo efficiency of nanoemulsions unloaded and loaded with calixarene and soapy water in the treatment of superficial wounds contaminated by uranium
Article: Anti-Inflammatory Effect of Anti-TNF-α SiRNA Cationic Phosphorus Dendrimer Nanocomplexes Administered Intranasally in a Murine Acute Lung Injury Model
Article paru dans "The Conversation" 10 septembre 2017

Cancer : des nanomédicaments pour cibler les tumeurs
Les nanomédicaments et leur mode d'administration révolutionnaire, relevant de l'infiniment petit, font beaucoup parler d'eux. Il ne s'agit plus, pour le patient, de recevoir le principe actif en avalant, par exemple, un comprimé. Cette fois, la molécule qui soigne est encapsulée dans une particule dont la taille est de l'ordre du milliardième de mètre, puis injectée au malade à l'aide d'une piqûre ou d'une perfusion.
La suite
Article paru dans le numéro hors-série Le Monde La vie - Juillet 2017
Date de parution juillet 2017. obtenir un exemplaire